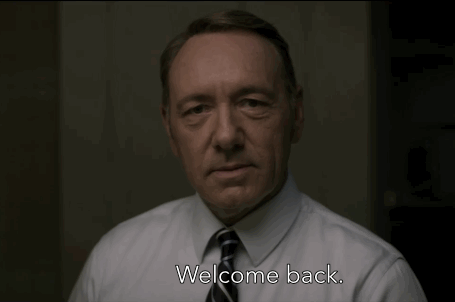 WARNING: SPOILERS FROM SEASONS 1 AND 2 AHEAD. 
I spent my weekend like many Netflix subscribers – Bingewatching Season 3 of House of Cards (and partaking in Frank Underwood's favorite meal while doing so.) While I missed Season 1 in 2013 initially, I watched it around Christmastime of that year and instantly became hooked. I bingewatched Season 2 in just one weekend last year. It is bar none one of my favorite TV shows, I aspire to be as venomously ambitious as Francis J. Underwood. The question is, which prominent figures of America's game resemble that of the fictional silver tongued South Carolinian politician? Here's a shortlist of who comes to mind.
House of Crimson – Alabama Coach Nick Saban
"Money is the McMansion in Sarasota that starts falling apart after 10 years. Power is the old stone building that stands for centuries. I cannot respect someone who doesn't see the difference. – Season 1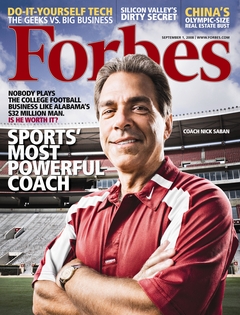 Nick Saban and Frank Underwood share plenty in common, including the fact both may have sold their souls to the devil to attain the power and achievements they have. House of Cards Season 1 kicks off with Frank being passed over for the Secretary of State position, so in turn, he begins plotting his revenge on DC's elite, manipulating them to his every whim. Saban got the job at 'Bama after not living up to expectations after a two year stint in the NFL. Alabama was a sleeping giant that was down in the dumps during the decade prior to Saban's arrival. Much like Frank Underwood, Saban was able to use his southern charm, and knowledge of his own assets and liabilities to bring the best recruits, and eventually, multiple National Championships, back to Tuscaloosa. Hence the quote above, while everyone knew Alabama was a sleeping giant, college football prognosticators were more excited about the Oregon's, the Boise State's, and other "McMansion"-type teams that lack the tradition of the old guard. Much like Frank's position at the end of season two, Saban is the king of the mountain until someone can match his dominant run. Even more fittingly, Saban now has his very own Doug Stamper in Lane Kiffin. A loyal second in command, Kiffin's reputation speaks for itself, but as the Doug to Saban's Underwood, it's almost as if the H.O.C writers room is also making decisions for Alabama's football staffing…
House of Scandals – New England Patriots Owner Robert Kraft
"Proximity to power deludes some into thinking they wield it. – Season 1
The man behind all of the Patriots success this millennium, Robert Kraft, has some Underwood undertones. He even dresses like a politician when not shimmying to Meek Mill at parties. While Belichick and Brady did most of the work on the field to get the Patriots to their four Super Bowl titles in 13 years, Kraft calmly watched from the luxury box, knocking his ring against an end table. Robert Kraft purchase the New England Patriots in 1994, and by 1997, coach Bill Parcells had led the team to a Super Bowl appearance in 1997. It wasn't until Kraft hired Bill Belichick, and by fate, Tom Brady began starting, that the Patriots dynasty began their rise to power. Four Super Bowl rings later, and Kraft recognizes, much like Frank Underwood, that fame and notoriety are not power, power is keeping stability within your practices. Brady, Belichick, and hundreds of millions of dollars in revenue, yet the Patriots never break the bank in free agency – they draft, sign young players and mold them in "The Patriot Way." Like any politician, there are the scandals. Kraft has always come off remarkably scott-free in these incidents. As Frank once said "Of all the things I hold in high regards, rules are not one of them." – Sure, Spygate cost the Patriots draft picks, but the team still stayed dominant. Deflategate has turned into something making the accusers look worse than the Patriots themselves. Considering the Wells report will find nothing that will take away the shine of the Patriots latest Lombardi trophy, Kraft will rest easy knowing he runs the most successful franchise in professional football this century. Along the way, some other AFC East divisional rivals have tried to give the Pats a run for their money – the Jets won the division on a tiebreaker in 2002 and the early Rex Ryan-era teams even pulled a few upsets. The Dolphins also won the division on a tiebreaker in 2008 and the Patriots missed the playoffs. Both times however, the Patriots rebounded to win the division the following five years. As Frank said in the quote above, just because you're near power,doesn't mean you wield it. Robert Kraft and his house of Patriots certainly wield all the NFL power, and will continue to for the foreseeable future.
House of Twelves - Seattle Seahawks Head Coach Pete Carroll
The road to power is paved with hypocrisy, and casualties. – Season 2
Pete Carroll is known as one of the more positive, happy-go-lucky coaches in the NFL. He also has left a trail of terror and scorched earth in his wake prior to his arrival in Seattle. When he was fired from his job with the Patriots, he landed on his feet at USC. Much like when Frank was the Democratic Whip in the House of Representatives, Carroll was handed tasks that he was more than capable of handling while still allowing for a few devious things to happen behind the scenes. The Reggie Bush situation comes to mind – now yes, there is a chance Carroll knew nothing about it, but there also is a chance he did know, but wanted to keep his star tailback happy. Why let breaking a few NCAA rules (which ten years later in hindsight, are appearing more and more asinine) impede your success? By the end of his tenure, rumor has it Carroll may have gotten a peek at what NCAA violations were coming down the pike for USC regarding the Bush situation. Carroll, being a man of action, promptly took off for Seattle to build his new empire. Five years, two Super Bowls, and one championship later, and Carroll is highly regarded among his fellow NFL coaches. Think of the end of his USC tenure like how Frank manipulated Congressman Peter Russo in season one. Carroll got USC out of their rut, used them until they were effective, and as soon as the situation stopped benefiting him, he moved on. Flash forward to Seattle, it took Carroll and GM John Schneider a few years, but by 2012, the Seahawks became the wrecking ball of team that they are today. That was catalyzed when Carroll found his Manchurian Candidate (what, I can't mix up my political fiction references?), I mean starting quarterback, in Russell Wilson. Wilson has a halo surrounding him as one of the nicest, most stand up guys in the NFL. That takes some of the heat off Carroll for his past transgressions. Some also blamed the coach for a lack of discipline during the PED scandal that followed the team during the 2012 and 2013 seasons, but Carroll stood by his soldiers, specifically the heart and soul of the team in Richard Sherman. Carroll uses his smile and knowledge of the game to take the Seahawks to success, when really, like Frank, behind that smile are devious thoughts of how he can squeeze the most juice out of the situation.
In Conclusion
Well what do you think? I think Saban, Craft and Carroll would all make Frank Underwood proud with the success that they have achieved, even if they haven't used the most ethical methods or routes to get there. They all have faced their lows, but risen above them to find themselves in even greater standing. Much like Frank's ascent to the presidency by the end of season two, all three went through pitfalls before their greatest success. Saban had his middling years with the Dolphins before building Alabama into the king of the hill. The Patriots lost a Super Bowl, a franchise quarterback, two head coaches and a lot of games before their current run of success under the Brady and Belichick regime. Pete Carroll rebuilt USC, left before the hammer came down, then built the Seahawks into champions. These three men could thrive in Beau Willimon's twisted version of Washington. For those of you who didn't get to knock out the entire series this weekend, enjoy the ride.
Things, Stuff, Etc.
New podcast will be up this week, I will post a link under the website tab.
While we're on a House of Cards kick, the Sesame Street parody is brilliant.
February, the slowest month of the year, is finally over! Here's to March Madness, Cawlidge Hawkey, and a gaggle of NBA and NHL games.
Jam of the Week
I mean House of Cards is all about Power.