For the uninitiated: two years ago, I had the opportunity of a lifetime, and took part in my dream internship as a Studio Production Intern with ESPN in Bristol, Connecticut. 10 weeks at the sprawling campus of the network that had made me want to get into sports, and where I hoped to work one day in the future. After a weekend at home for Saint Patrick's Day, I was gearing up for the stretch run in Bristol, which would end the same weekend as the Final Four.
For perspective, 2012-13 was the first (and turned out to be the only) year that I was a Michigan Basketball season ticket holder. The hype of the fresh five (Albrecht, Stauskus, LeVert, McGary, Robinson III) joining Trey Burke and Tim Hardaway Jr had me sipping the maize Kool-Aid despite the team's inexplicable loss to Ohio in their opening game of the 2012 NCAA Tournament. I had attended every home game possible, sitting in the Maize Rage along the sideline, cheering on the team. My last game came the night before I left for Bristol, when the team beat Purdue 68-53 (pictured left). I waived bon voyage to Ann Arbor and took off for Bristol.
Seven Weeks Later (In Spongebob Narrator Voice)
Championship Week: The Big Ten Tournament
Before the tournament even started, I had the joy of casually meeting former Fab Five member and Michigan legend Jalen Rose in Bristol. When he found out I went to Michigan his eyes lit up at meeting a fellow Wolverine and Michigan native. During Championship week, it was the opening day of the Big Ten Tournament. Michigan had inexplicably lost to a woeful Penn State team in Happy Valley two weeks before, blowing a 15 point lead giving the Nittany Lions their only conference win of the season. As I was walking down the hallway, I ran into Jalen and the following exchange ensued:
Me: Yo Jalen, you ready for the Big Ten Tourney?
JR: MICHIGAN INTERN! Have you met Tim yet? (He motioned to Tim McCormick, a former Michgan Center in the 1980's who works as an analyst at ESPN, was manning the screening room mini set for championship week coverage on ESPNNEWS.) Seeing it was a commercial, Jalen tapped his fist to the glass.
JR: Tim – Current Wolverine over here! Just making sure he pays homage to his elders! (He motioned to me and I waved, Tim politely waved back)
JR: but yeah I think Coach B has them ready for the tourney
Me: there's no way they lose to this Penn State team twice in one year
JR: If they do, you me, and Tim will head to Ann Arbor and knock some damn sense into their heads before next week.
Thankfully, Michigan took care of business, beating Penn State 83-59 before falling in the next round to 4th seeded Wisconsin 68-59. While I knew it would hurt NCAA seedings, it was kind of nice to go to Ann Arbor not having to worry about balancing watching the Big Ten Tournament games with St. Paddy's Day shenanigans.
*My run in with Jalen happened a mere 8 days before the epic clip above*
Weekend #1: Round of 64: Michigan 71, South Dakota State 56, Round of 32: Michigan 78, VCU 53
One short week after my run in with Jalen Rose, March Madness kicked off. The entire campus was abuzz, from the SportsCenter pods discussing their brackets casually off-air to the endless on air coverage.  Anchors and analysts running between studios all day, a lot of the buzz that you felt from the tournament, you could see personified behind the scenes. It also was the time of year for "fan days" an annual tradition where talent and staff are invited to wear their favorite teams colors – of course I wore as much maize and blue as possible across the four days. I was sitting at my desk in the screening room on opening day, every tv along the wall had games playing, in addition to the TV at my desk having access to the feed channel – It divided the screen into four boxes and showed me four games being played at once simultaneously. Luckily, working feed room (pulling up archive footage from the basement and ingesting the files to the servers) I had done most of my work for shows that morning, giving me a chance to fully engross myself in the Madness of the afternoon. My bracket destroyed itself early, as it does every year, but being in this new environment being surrounded by fans, experts, and even guys who had played in March Madness themselves, created a melting pot like nothing I had ever seen.
The first Sunday of opening weekend, March 24, I had to work the AM SportsCenter. This was the day after Michigan soundly beat the 5th seeded VCU Rams 78-53, securing their position in the Sweet 16 for the first time since the 1994 tournament. They also had done so in nearby Auburn Hills, which meant there were hundreds, if not thousands of Michigan students in attendance. Working this particular sunday was the face of the franchise himself, a then beardless Bob Ley. I hadn't had the chance to meet ESPN's godfather, so as I introduced myself while handing him scripts, naturally he asked what school I attended, being an intern and all. I replied that I was Michigan born and bred. With a slight grimace, he said, I'm a Seton Hall alum myself, Michigan won that final over them when you were a baby. I had to inform him I actually was born 21 months AFTER Michigan won that 1989 National Championship. With a slight look of horror and amusement, he muttered "they keep getting younger and younger" as I gleefully returned to my spot prompting. Being able to fire a shot without even trying at one of the best in the business gave me a good laugh.
Weekend Number 2: Sweet 16 Michigan 87, Kansas 85 (OT) Elite 8 Michigan 79, Florida 59 
The next Friday, I had the chance to watch the Michigan's Sweet 16 matchup vs Kansas from the comfort of my couch in Hartford. While I wish I had the ability to be in Ann Arbor, or better yet, Arlington to see the game in person, it was a game I would never forget. When Trey Burke rose up and nailed that 3 pointer, my celebrating led to my elbow leaving a decent size dent in the drywall behind me (whoops.) I didn't care, my team had forced overtime off a moment that is forever sealed into my memory. Michigan of course went on to win, setting up an elite eight date with Florida.
The Sunday morning of the Gators game (which just so happened to be Easter Sunday) I had two interesting run ins involving my team. Working on The Sports Reporters, Burke and Michigan's heroics from Friday dominated the tournament conversation. I distinctly remember Bob Ryan of the The Boston Globe (he is frequently on Around The Horn) mentioning that every tournament, he finds a player he wishes he could "adopt" as a son. Due to his breakout performance, he chose then freshman forward Mitch McGary. I held back a few stifled laughs having seen McGary around campus and met him a few times, knowing he was a bit of a goon, but was happy to see him finally breaking out on the court during the tournament. My friends and I also had a running joke that McGary had rode the pine the earlier parts of the season due to weight issues. While I was grabbing my post-show coffee, the reporters walked by on their way back to the green room so I dished to Bob Ryan the facts on man now known as MMG.
Me: Hey Bob, you may not want to adopt Mitch McGary so quickly.
Bob: Why is that?
Me: I've seen the kid eat in the dining halls, you're going to go broke trying to keep him fed!
That was met by some raucous laughter as the reporters continued down the hall. I had to work the mid-morning SportsCenter which meant running scripts and getting to chat with the basketball analysts as they came in to breakdown the day's games. Former Tennessee and current Auburn coach Bruce Pearl was a real character, he is just as boisterous as he seems. I got a chance to get to know him and current ESPN analyst Seth Greenberg fairly well, and always picked their brain about Michigan hoops and their chances. Even they didn't believe the team would go on the run they did. Most notably, I remember asking Coach Pearl about Michigan's chances of making the Final Four. He said that he saw Michigan winning in a come from behind fashion. Michigan instead opened with a 13-0 run and led 41-17 at one point. I caught Coach Pearl walking out of the studio and before I could even say anything he haughtily replied "Jesus Christ! I expected them to beat Florida, not put them six feet under! Your boys ate their Wheaties this morning!" I high fived the coach and returned to my desk, knowing that a trip to the Final Four was in hand, and I would be back in Ann Arbor to watch my team try and earn a berth in the National Championship against Syracuse.
Final Four Weekend: Michigan 61, Syracuse 56
An insane thought ran across my mind. Could I pack up all my belongings in Connecticut, leave my last day of work, drive down to Atlanta to meet up with friends and spend the weekend in Georgia even without a ticket to the game? It would've required me pulling an all nighter Friday to Saturday and driving 20 hours to Georgia. Sadly, my folks didn't think it was the brightest idea, so I digressed, but made my dad promise me we would be home Saturday night before the big game. Sitting in the car, driving through Pennsylvania on I-80, I was receiving dozens of Snapchats, and seeing plenty of Tweets and Facebook posts of people enjoying the festivities in Georgia. We made it back to Ann Arbor by 8:15
where my best friend and roommate had already assembled our closest friends for a watch party for the Syracuse game. Returning home, seeing everyone, and watching my team win brought me so many emotions and so much happiness, it was a night I would never forget. As we cheered on Michigan in their eventual win over the Orange, we then bolted out the door, and did not walk, but sprinted to Rick's, our favorite bar, to grab a spot in line to celebrate. I even had the hilarious text conversation with my mother as seen on the right. It was a night I would never forget, leading into a Monday that was unmatched.
Championship Monday: Louisville 82, Michigan 76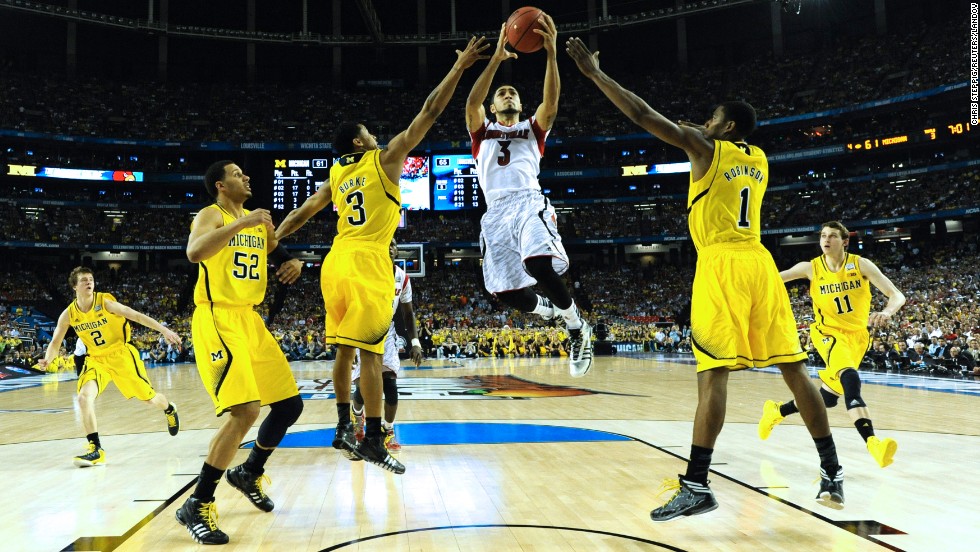 Being in a college town when the school's team is in the championship creates an atmosphere unlike any other. The hype around Ann Arbor that day was palpable. As I spent my day catching up with friends, I even had the chance to be interviewed by the local ABC affiliate at Charley's while hanging out with friends who were saving a table for the game later that night. I was going with a different group to the watch party at the Crisler Center. The game was fantastic. Spike Albrecht had the game of his life. And all was well, until it wasn't. Hope was extinguished when Michigan lost by six to Louisville. I obviously can't imagine what the players were feeling, but the fans left Crisler in a somber mood, happy about the season that was, but sad that it fell just short of Championship glory. Even though Michigan hockey had just lost in the National Championship game two short years before, this one stung a bit more. If Michigan had won, it would have been the culmination of a program that spent most of this millenium under scrutiny for the Ed Martin scandal, and was returning to prominence under John Beilein. Like everyone else, I recovered from it, and still love Michigan Basketball through and through (despite my up and down attitude about the past campaign.)
While I may not have had the traditional student experience during Michigan's run to the national title game, I had my own unique one that I will never forget that spanned Bristol and Ann Arbor. I laughed, I cried, and I cheered on my team with unrivaled passion. While I still wonder what could've been had Michigan won that title, it was a ride that I'll never forget, and an experience I am thankful for.
Jam of the Week: